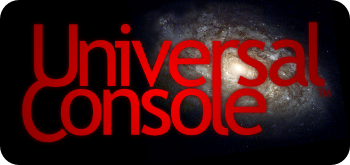 Digitarium Universal Console™
The Universal Console is a web-based application for controlling a Digitarium® digital planetarium system. It gives presenters more options for operating their system—while still maintaining the ease of use for which Digitalis is well known.
With the Universal Console, a fixed dome user could teach from a desktop computer in a control booth. For a more portable device, teachers can run the Universal Console wirelessly on an Apple iPad®. The advanced interactive functionality will benefit teachers in both fixed and portable domes.
The Universal Console interface does not replace Digitalis' handheld, backlit remote control; it gives users finer control over their presentations and adds some functionality not available with the remote control. For example, with the Universal Console, an object can be selected from a sortable, searchable list rather than by using the remote control cursor.
As an example of finer control, with the remote control, there are four preset rates of meteor showers. With the Universal Console, users can choose any meteor shower rate from a continuum and adjust this as desired.
The Universal Console hides absolutely any trace of the user interface from the audience, maximizing the immersive experience. Run a software script, change your latitude/longitude, show images or videos, and more, without your audience seeing a single line of menu text on the dome.
Here is a screenshot of the "Observer" screen, which enables you to adjust your viewpoint, sky time, etc.: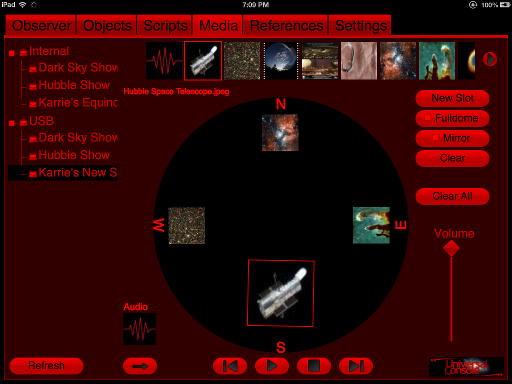 Note that the interface colors help preserve the presenter's dark adapted vision and mitigate light cast on the dome.
To gradually adjust your latitude, longitude, altitude, or heading, simply drag the round handle to the right to increase the value, or the left to decrease the value. The further you move the handle away from the center, the faster the value will change. To enter an exact number, edit the setting with the keyboard (physical or on-screen). The time controls function just like a DVD remote.
All of the functions of the Digitarium remote control are also available through the Universal Console interface, and the two can be used together during the same presentation. Additional Universal Console functions include:
Augmented Lessons feature makes live presentations so much easier!
Easy access to scripts, with comment header display.
The ability to play an audio track in the background.
Dynamic placement and manipulation (mirror, rotate, scale, etc.) of images or videos against the sky.
Basic slide show functionality.
Select a celestial object by name from a sortable, filterable, and searchable database.
Adjust colors with a graphical color picker.
Select and unselect constellations with one click (multiple constellations can be selected at once).
The Universal Console currently can be run by an Apple iPad (using the built in Safari web browser) or any computer that runs the Firefox web browser. It is a cross-platform application, so it does not matter which operating system your computer runs.
The Universal Console now supports basic cove light control for Bowen Technovation AstroFX Aurora cove lighting sytems. Fade up or down your cove and adjust the color and intensity—all from your iPad or desktop.
Worried that you won't be able to set up or use the Universal Console? Here are some points to consider:
There is no software to install on your iPad or desktop computer (unless you need to install the Firefox web browser). If purchasing as an upgrade, you will just need to update your Digitarium system, which is an easy, automated process.
Our detailed manual provides step by step instructions, enabling even the least technical user to successfully get started. We provide free technical support, if needed.
We wrote the application from scratch, so we can provide outstanding support if questions arise.
Some people have told us that the Universal Console is actually more intuitive than our remote control, since the functions are labeled with words in your native language instead of icons.
PRICE: $4,000.
Receive a discount of $500 when purchased with a new Digitarium system.
Price includes free technical support and online software updates for the life of your Digitarium system.
All Digitarium portable systems include Wi-Fi access point functionality so that you do not need to set up a Wi-Fi router. Apple iPad or other networking hardware not included.
If upgrading an older Digitarium, you must have an OP3 or newer system; contact us if you may need to upgrade your Digitarium Operating Platform as well.